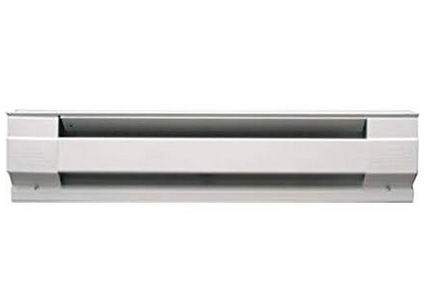 Electric baseboard heaters are highly vulnerable of risk of damage. Its position brings risks of getting hit by vacuum cleaner, running kids or pets and lots more. Using Baseboard cover would be a good choice. Baseboard Heater Covers offers perforated steel baseboard cover designed to fits most baseboard heater models and by far the only product to meet the criteria. It comes with sleek classic design that could turn the clumsy looks into a stylist look giving huge impact to your room decoration. Moreover, it is also easy to install without any tool ever required.
This product really changes the product standard of baseboard heater cover once for all. The complicated measurement details needed to make custom baseboard cover are no longer required. As baseboard cover becomes much easier to manufacture as mass production, it comes with much affordable price. Whether you need electronic baseboard heater covers for home or business facilities, you can easily find the right one.
Benefits of Baseboard Heater Covers
Looks Great in Any Room – Baseboard Heater Covers really knows how to make a huge impact to your home decoration. The electric baseboard heaters cover is professionally designed to have a stunning visual impact. Made from perforated steel, it gives classic looks that fits with various style of wood, carpet or even base tiled floors.
Superior Airflow – The design that uses perforated steel as the material for the cover screen is a brilliant choice. It offers optimum airflow that really critical for the heater efficiency. It allows proper airflow to the heating element giving optimum room temperature control.
Child Safe – We all know that children have huge curiosity and it often brings safety risks. Heating elements inside the electric baseboard heaters could give serious incident when the children put their fingers on it or put their flammable toys inside. This product is designed to be child safe. The perforated steel cover won't allow child to access the heater using their little fingers. It is also highly durable to various impacts.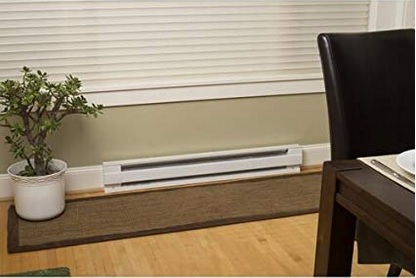 The dangers associated with hot finned tube heating elements are well known. Our child safe design doesn't allow for little fingers or small flammable toys to be placed inside the heaters cover.
Simple to Install – You no longer need irritating hours to install electric baseboard heater cover. Baseboard Heater Covers offer sleek design allowing you to install the cover within few minutes. Thanks to the cover that would easily slip over the heater. There would be sophisticated hardware and tool ever needed for the installation process and it is guaranteed that it would be perfectly installed with professional looks.
Buy Qmark Baseboard Heater !